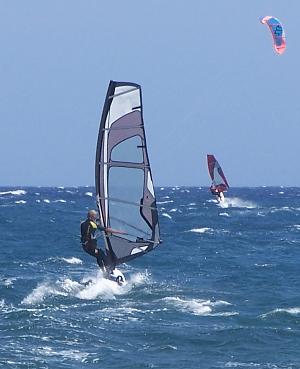 El Médano, Tenerife.
General.
El Médano is certainly the windiest place I have ever been. The windsurfing was excellent. My first visit was in January 2001, and I now visit regularly. For detailed notes, see my Tenerife Windsurf Diary. For photos, see my Photo Index
In January 2001, we had good windsurfing for 8 days out of 13. In April 2001, I sailed 11 days out of 14, with good winds on 8 days. January 2002 gave only 7 days out of 13, and the winds did not seem as strong as previously. The climate was warm dry and dusty, with often a cold Northerly wind. A warm coat was sometimes needed in the evening. The exchange rate was around 250 ptas to £1 sterling in 2001. They now use Euros.
October is a lot hotter. It is very good to be able to windsurf on waves, sometimes wearing only shorts and T-shirt. Unfortunately, the heat meant that we were less inclined to spend time walking or exploring the island. Also, the wind seems to be not quite as strong or frequent.
Bank holidays in Tenerife are celebrated on different days from British bank holidays. You won't know it is a bank holiday unless the supermarket is closed or the bus doesn't turn up.
The views expressed here are personal and subjective views, representing my own experience.
The hire centres have very good web sites. Please see my Tenerife Windsurf Links for further information.
Geography.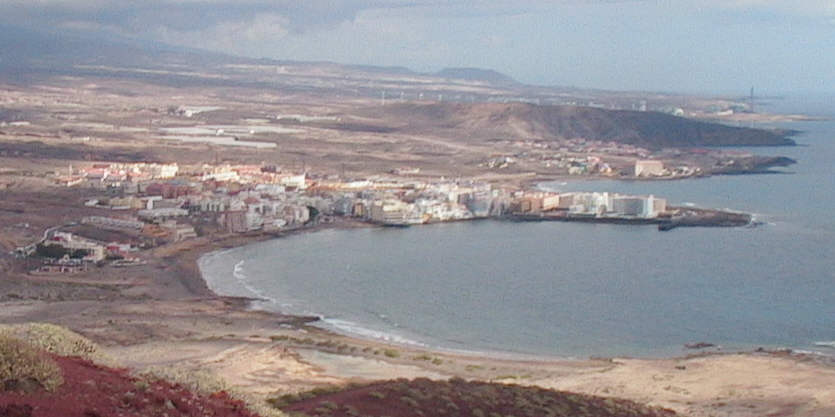 The picture above shows the view from Montaña Roja on a day without wind. In the foreground is Playa Grande. North Bay lies beyond.
The coastline here runs NE to SW, so the more Eastern bay is termed North Bay, and the Westerly bay is South Bay, also known as Playa Grande. The wind is generally NE, parallel to the coast. The harbour, and the town, lie between the bays, overlooking Playa Grande. At the Western end of South Bay lies the Playa Sur Hotel. Beyond this is a small hill, Bocinegro, and a larger one, Montaña Roja.
Beyond Montaña Roja, lies Tejita beach. This gets clean wind when the wind is Westerly. It is not too far to walk with a kite, but you could use the regular bus service, or take a taxi from the main square.
At the Northern end of North Bay lies the Arenas del Mar Hotel, previously the Calimera Atlantic Playa. Beyond this lies Montaña Pelada. Cabezo beach is in North Bay, but near the town, at the other side of the point from the harbour.
Airport & Transfer.
The airport is only a short taxi ride from El Médano, physically nearer the Playa Sur end of town. The flights generally take off over the Atlantic Playa hotel, and make a great deal of noise. Friday is the busiest day. Tuesday is also now very busy.They can manage 27 landings and takeoffs per hour. The airport operates continuously, day and night. The number of night time flights has recently increased considerably. A second runway and a new terminal are planned - see developments.
Transfer.
Personally, I always hire kit in El Medano. The hire centers are excellent. For a very reasonable fee, you can have a choice of boards and ready rigged sails, suitable for local conditions.
There is a taxi rank outside the airport. There should be someone there to help you arrange a suitable taxi to carry your kit. Without kit, a taxi costs about 15€. The journey takes around 10 minutes. You may expect a considerable extra charge for carriage of windsurf kit. If you have a great deal of windsurf kit, the taxi drivers may not be eager to help.
The taxi drivers do not like other folk doing private transfers. If you are staying at a hotel, you could ask the hotel if they can provide a transfer. If you have booked storage, they may be able to help.
There is at least one company on the internet advertising private transfers. It is worth asking them for a quote !
Perhaps the best way is to hire a car for a few days. Take your straps, and a towel to protect the car roof from scratches. You do not need a car in El Medano, but a car is useful for sightseeing on days when the wind drops. Hire cars are cheap if booked in advance over the internet.
Windsurfing.
In January 2001, I hired from Fun Factory in North Bay. This was at the Hotel Atlantic Playa, now re-opened as the Arenas del Mar, so you have to walk along the beach for a way to a place where you can launch. Here, the wind is particularly gusty, especially at high tide or if the wind is slightly off-shore. The wind at one moment is light, then attempts to catapult you over the front, and then comes round from the back. You may end up swimming the board out into the water to find a place where you can waterstart. Waves are not a problem here.
Out at sea, conditions are irregular chop and waves. Even by Gullane standards, the waves are irregular, and the wind seems gusty too. Unfortunately, I did not have my own board with me, which might have coped with these conditions better.
Further along the beach at North Bay lies El Cabezo beach. This is the beach used by many people with their own windsurf kit - though some go to South Bay, depending on conditions. El Cabezo has on-shore waves in shallow water, but the wind seems strong and steady here. There are also waves off the point at the harbour.
In March 2001 and subsequently, I hired from South Bay. Upwind is the harbour, and town, which provides some shelter to both wind and waves. Downwind from the Playa Sur hotel is a valley, but further out at sea, the presence of Montaña Roja downwind reduces the wind strength.
South Bay is definitely more sheltered, and the launch point is much easier though it can still be quite tricky when there are waves, especially at high tide. On occasion, there seemed to be reasonable winds in North Bay for a large sail, which never quite came through to South Bay. Unfortunately, I could not have sailed in North Bay with a large sail either, because of the very difficult launch conditions.
Conditions in the morning usually started quite flat, but the wind came into the bay around 11:00, and the waves gradually increased. As this happens, cloud builds up on the surrounding hillside. Once the cloud is established, the wind eases back a little and may become gusty.
I found larger and better deep sea waves in South Bay, and I also sailed up from the launch point to sail in the waves off the harbour. Without much difficulty, you could sail further upwind to sail at El Cabezo.
In 2001, we saw a number of kite surfers - about 5 at a time in each bay, particularly when the wind was around Bft 4. In 2002, there are even more, and they are seen in stronger winds too! They are now an established part of the scene. Large kites are particularly suitable for the lighter winds to be found early and late in the day.
In 2004, the winds were disappointing. Conditions were certainly very different from those I had experienced in previous years.
Following the closure of the Atlantic Playa for refurbishment, Fun Factory have not been operating their hire center. The Atlantic Playa has now re-opened as the Arenas Del Mar, and it is hoped that the hire center will soon resume operations.
There is a new windsurf hire center in South Bay. OTC has equipment from many different manufacturers for you to test.
There was little safety cover in January 2001, but this has improved considerably as of October 2003. There is now a regular coastguard presence. The coastguard have been observed helping windsurfers and kite surfers when problems have been reported to them. The coastguard is part of the "bombieri" fire brigade emergency service. The bombieri have now been replaced by a separate beach rescue service.
If you get blown downwind from North Bay, you can always come ashore in South Bay in an emergency. If you go out from Playa Sur beyond Montaña Roja, there is only one very small beach, and that means you will have to carry the equipment a very long way. Past this beach, and you'll be in open ocean, looking for a passing fishing boat or helicopter.
In these extremely rough conditions, modern boards are easily damaged. Be very careful not to catapult in the shore break, or bang the nose of the board against the rocks.
The hire centers do not offer insurance, and you will be expected to pay for damage. In my experience, repair charges are very reasonable.
The hire centres have very comprehensive web sites, giving information about El Médano and the winds as well as about the services they themselves offer.
My detailed diaries describe the conditions I experienced.
Accommodation.
There are three hotels, and a 'residence'. The Arenas del Mar (4*),previously the Calimera Atlantic Playa, is situated at the end of North Bay. The Atlantic Playa had an All Inclusive policy, and had organised entertainment (in German) every morning.
The Playa Sur (3*) is located at the end of South Bay, convenient for the hire centre. It looks very plush inside. You can book BB or HB.
The Hotel Médano (3*) is in the main square, and probably cheaper than the other hotels. Residence Carel offers rooms and small apartments.
There are numerous apartments in town, of various grades. In January 2001, we stayed at the El Cabezo Apartments, near the Hotel Atlantic Playa. It is a long walk into town for the nearest supermarket and restaurants.
There are lots of other apartments in town. In April 2001, we booked an apartment by the main square, using the "Best Connection" booking agency.
Our apartment in town was very much more comfortable than El Cabezo, was very well supplied, and much more convenient for buses, supermarket, the harbour, and general walking.
In January 2002, we booked an apartment with Paulina Martinez. The apartment was large and well appointed. Pauline speaks excellent English, and was very helpful. We have used her apartments many times since.
Restaurants.
There are many restaurants, cafés, snack bars and take-aways in town. Food is good, especially chicken, pork, steak, chips, or local fish. We enjoyed the Canary potatoes and Canarian vegetable soup. We found it convenient to make our own lunches, using the excellent bread, cheese, fruit and vegetables from the local supermarkets.
Some of the restaurants we used in the past are now closed. El Pescador has a simple menu with excellent food at a good price. They do an excellent sea-food paella. This should be ordered in advance, as it takes time to cook. The Familiar restaurant in the centre of town can be relied on for good food and is always popular.
There are at least 4 Chinese restaurants which can be relied on for good, very cheap, food. The Peking Garden is extremely good value. The Hong Kong restaurant in the main square has a good view and very good food.
There are several Italian restaurants. You can also get pizza or pasta in many take-aways and other places. I recommend the Piemonte Italian restaurant, near the Hiperdino supermarket.
There is a very good patisserie by the El Médano hotel, where you can buy a cake and coffee after your meal.
Developments.
A major industrial port is planned, just 5 km East of El Médano. The plan is for an industrial quay by 2008, and the rest by 2011. Preliminary work has already started. The port will include an LPG gas terminal. The effect on El Médano is not clear. The industrial area and the ships will certainly be visible from the South Bay sailing area. A sand pump will be needed to move sand around the new quay, so the beach in El Médano can be retained.
A second runway is planned for Reina Sofia airport. The new runway is to be built North of the existing one. Preliminary excavations would provide rock to be used in the construction of the industrial port.
Runway construction is planned to start in 2010, and be complete by 2014. For the moment, a single runway is sufficient. The airport gets very busy on some days, but also has long quiet periods.
There is a budget for 30 million Euro to be spent on a new airport terminal in 2007. An additional 40 check-in desks are planned. The existing terminal already has around 87 desks.
There is increasing traffic using Tenerife North Airport at Los Rodeos. Tenerife South is much more convenient for El Médano. There is a subsidy on some scheduled flights to encourage tourism, particularly in the North.
Santa Cruz has a new tram system. Eventually, it is planned to run all the way out to Adeje. There is already a very good bus service on this route.
Booking.
If price is no object, you can book a package to El Médano through Sportif, Greenslades, or Planet Windsurf. All of them will only book a complete package including flight.
My holiday in January 2001 was booked through Greenslades, but I was disappointed by the price and quality of the arrangements.
In my experience you can book a very good windsurfing holiday at a much cheaper price if you take the trouble to make the arrangements yourself. You will have the advantage of direct local contacts.
If you have the misfortune to experience problems with a particular apartment or flight, there are usually many other apartments available, especially out of season, and many flights back to the UK.
Flights can be booked on the internet. Apartments can be booked via the information centre, over the internet, or direct by telephone.
When booking flights, it is sometimes cheaper to book two single flights rather than a return, provided your credit card company offers a good deal on purchases in foreign currency.
In April 2001, we booked our apartment with Best Connection. Since then, we have booked with Paulina Martinez, who has treated us very well.
You can do your own transfer using local taxi, or arrange a transfer for windsurf kit using either of the local hire centres. There is a taxi rank in the main square.
You will often see very cheap package holidays advertised to Tenerife. Most of the tourist resorts are quite close to El Médano, provided you have a hire car. You can use the car to good effect to explore the island on those days when there is no wind. The resorts of Golf Sur, Costa Silencio, Los Christianos, and Playa Americas are all within about 30 minutes drive.
Money
There are many banks and ATM machines in El Médano. Santander have a branch and an ATM.
The Santander Zero credit card offers a good deal on Euros from ATMs abroad, provided you pay the debt promptly. You need to tell them every time you go on holiday.
Santander have the same deal on debit cards, provided you use the ATM at the Santander branch, and you pay £1000 monthly into your account.
Halifax Clarity Card offers "no usage fees". I have not tried this.
One way to transfer money abroad is the Western Union money transfer service. The agent in El Médano is the Post Office, Correos Y Telegrafos, Calle Gregorio El Guardia 5.
If you travel regularly with RyanAir, you can save on your fare by using a prepaid Master Card. You can make further savings by booking your return flight separately, and paying for the return with a Euro denominated prepaid Master Card.
Tenerife Photos
Summary.
I had some great sailing and better winds than I have previously seen anywhere abroad. The holidays are a lot cheaper than some others you might consider. It is very easy to make your own arrangements. There are lots of apartments, flights from local airports, and a short taxi transfer.
The January 2001 holiday was spoiled by the excessive price which I paid Greenslades for booking the apartments. I was also concerned about the possibility of damaging the hire boards.
We also enjoyed the winter sunshine. In my opinion, the quality and availability of different kit at the hire centres more than justifies the hire charge.
For many people, El Médano is a regular destination. Hire centres and restaurants get to know their customers. They know they will be back!
Please tell me if you enjoyed reading this, or found it useful, or if there is anything else you need to know.