Windsurfing at Silverknowes, Edinburgh

Silverknowes is just East of Cramond. The photo shows the sailing area at low tide. The sailing is between the promenade and Cramond Island.
We sail here in an Easterly or North Easterly wind, which is on-shore to the sand bank.
Warm temperatures over central Scotland add a thermal effect, and the wind seems to funnel up the estuary, so winds can be stronger here than you might expect.
The best waves occur at mid to high tide, when there is shallow water in the bay, particularly with the tide running out.
Be aware that there is no beach at high tide. You may have to to launch from the rocks. It can be very difficult getting ashore at high tide without damaging equipment.
There is a cafe between the beach and the roundabout. Boardwalk Beach Club (Facebook) opened Easter 2016.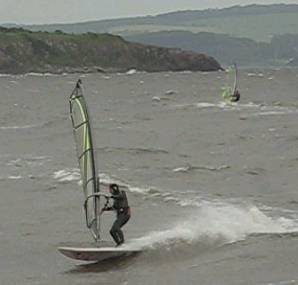 From Edinburgh, take the road to Queensferry, then turn right at traffic lights towards Cramond. After a small roundabout, turn right at a small road alongside a stone wall. This is Lauriston Farm Road. Turn left at the roundabout onto Silverknowes Road, which takes you towards the sea. At the end, turn right onto Marine Drive and park as soon as you can. Free parking on the road. Rig on the grass adjacent to the promenade.
Update 31 May 2020
Edinburgh Council have closed Silverknowes Road, but Marine Drive is open from the East. From Lauriston Farm Road continue in an Easterly direction along Silverknowes Parkway, then turn left at the next roundabout along Marine Drive.
15 June 2007 Photo and Video
12 May 2009 Photo (large)